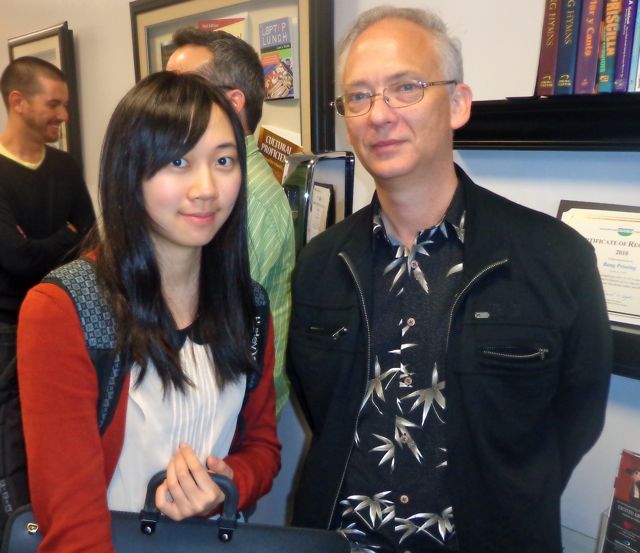 Taiwanese artist, 23, studying book design and illustration at the School of Visual Art in New York
by Dan Bloom
TAIPEI -- In 2012, Mago Huang
​(黃中妤) ​
was
honored with an award as one of the 12 illustrator winners of ​a Writers and Illustrators of the Future contest
in Los Angeles. A native of Taiwan, Ms Huang now lives in the USA, and this blogger recently found some time to interview her and she graciously
answered some of our questions by email.

When asked about the 2012 award contest, Ms Huang, now 23, told us that each selected illustrator was paired up with a selected writer.
"The contest judges selected 12 artists and 12 writers to go on to the second round of the contest. The writer I was paired up wuth was Harry Lang. He wrote a short story was selected for the contest, the judges felt that my style of art suited his story so they asked me to do an illustration for this," she said.

Here is Mago with writer Harry Lang in Los Angeles in 2012: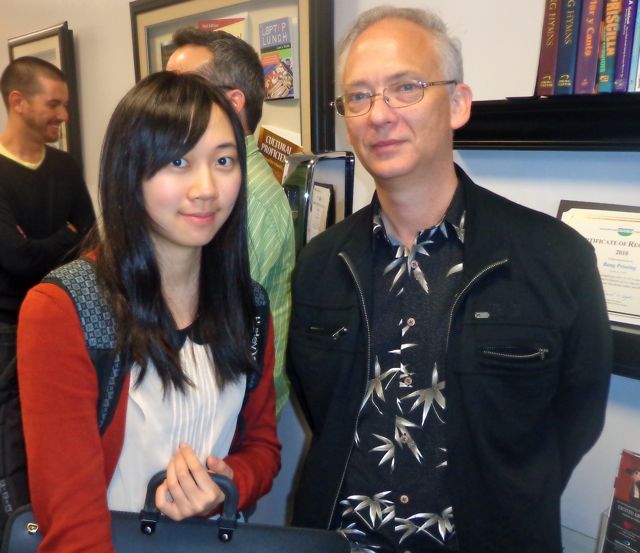 Ms. Huang started to learn to draw during
her elementary
school years
​ in Taiwan​
, and won competitions while attending Wu-Chuan Junior High School in Taichung
​. When we asked if her art teachers in Taichung were important to her and the development of her talents, she said yes, explaining:
"I was enrolled in an art program in junior high school. The experience definitley influenced my art. We had to take four kinds of art courses in junior high -- water color painting, drawing, calligraphy, and traditional ink painting. Although I don't think all the classes met my interests, I still do appreciate the experience of learning art skills in Taiwan. I learned a lot through my classmates and teachers. It's also very helpful to know people who are also in athe rt field, and I remained friends with my classmates after the school program. Some of my classmates went into industrial design, some became photographers, and others became popular on social media."
After emigrating to the United States
​ to attend high school there, you
won an Honorable Achievement award in the 5th annual Safeway-Lucerne art competition "The Art of Dairy," which involved drawing a cow using various designs. How did your parents react to your winning the award
?​
"
After winning several competitions, my parents finally realized I was very serious about my wanting to pursue a career in art," Ms Huang said. "So they became very supportive, taking me to art courses and paying tuition for art school."
Mago once said that her
​
dream was to illustrate children's books and art magazines.
​We asked her if that was still her dream now,​
"Yes, illustrating childrens' book is still my top choice," she said. "However, after enrolling in art program, and having the experience of being published, I now feel that I would prefer writing my own story, and also doing the illustration myself. This way I will have more freedom regarding the whole package, the design and the plot."
In the summer of 2015, Mago did illustrations for a children's book published in Taiwan.
Mago once said that "If everyone spends a little time looking at a piece of art, they too can imagine a magical world." I loved that idea, and I asked her to tell me more about it.
"I always think art is a living thing," she said. " It grows with you. For example, if you buy an abstract painting for your house, at first, it's just a pretty image. But as time goes by, you will become more attached to the painting, and eventually it becomes a small world for you (or a special scenery) you are attached to emotionally) . You could start to imagine it's a painting of clouds or mist in the autumn. It could be the places you want to go, it could be your favorite season, it could be memories of childhood. Things like that. I could be so many things, and what I mean is, if one spends enough time, a painting could be anything you want it to be. It all depends on who you are, the things you have experienced as a human being, and everyone can appreciate and see the things they love about each painting."




When we asked if Mago planned to stay in the USA or return some day to Taiwan to work later on, she said she is still thinking about her future plans and has not decided yet.
she is happy studying and living in America.
Her future looks promising.

"I'm enrolled in the School of Visual Art in New York,'' she said. "I am studying in the 'illustration as visual essay' program. We have to wrote our own story and illustrate it. It's the kind of program I always wanted to do."

"In addition to writing and illustrating children's books, I'm also very interested in pattern making and package design," she added.
==============================